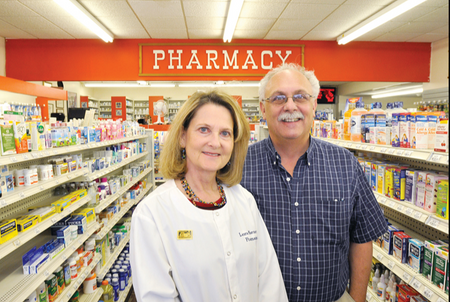 Customer Service Is Our Priority
Jon's Drug has been hard at work serving the people of Eveleth, Gilbert, Virginia, and the surrounding area since we opened our doors in the summer of 1983. Jon and his wife Laura worked as the pharmacists at their hometown pharmacy until their son Michael graduated from pharmacy school in 2015 and returned home to help run the store; at this time Laura was able to retire from the daily grind and enjoy some much deserved time off. Currently Jon and Michael and their exceptional team strive to provide the community with top notch pharmaceutical care and a personalized approach only available from a small-town business. We offer a large variety of pharmacy services including long term care, specialized packaging, immunization, diabetic shoe fittings, and much more. We also have a wide display of gifts, Hallmark cards, and Eveleth/Iron Range themed novelties that will make a unique souvenir for anyone out of the area.
Jon's Drug is truly a family business. Since 1983, Jon and Laura Marcaccini have dedicated their lives to providing top tier service to their customers. Jon and Laura's passion for their pharmacy inspired their son Michael to join the pharmacy after graduation. The family environment provides a unique personal touch lost in a new digital world. As always, Jon's Drug is committed to providing nothing less than exceptional pharmacy services to our customers. As more people realize the benefits of utilizing a local independent pharmacy, we remain confident and excited that we will be welcoming many new patients, group homes, and nursing facilities.
Read More About Us: